My Story
As a small girl I spent every spare minute drawing. I grew up in central London with my mum brother & sister and a father who is an artist which made for an interesting childhood.
At that time, we had no garden so with a passion and love for nature I escaped into my imagination and spent a lot of time in my bedroom copying images I loved, especially birds and fish.
My father is still a working artist now specializing in stone carving. During my childhood he explored many different mediums from wood, metal and print work with the constant being drawing.
I have strong memories of visiting his studio in Wapping and him rolling out a huge piece of paper which he then stapled to a wall. I was then left to my own devises to draw whatever I wanted. His studio felt huge and very cold but I remember all the sculptures up on plinths in different stages of completion.
We moved to the Isle of Wight when I was 11 which was very different. I enjoyed school and after finishing my A levels I went on to spend five years at three different Art colleges in the south. It was during my time at Worthing that I discovered clay and I have never looked back. My home and studio are based in Dorset on Portland which has a very quiet and calm pace to life.
For me working with clay holds so many exciting possibilities from drawing to design, sculpture, science the list is endless.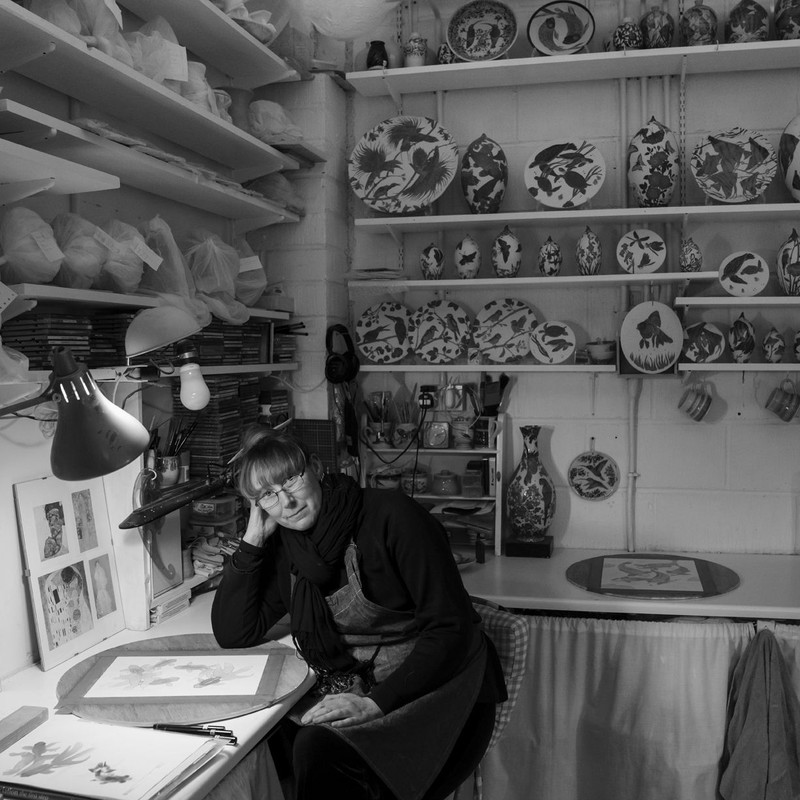 About
Discovering and specialising in the beautiful technique of sgraffito has allowed me to pair up my two loves of drawing and clay work. I am passionate about this time consuming process and have developed a distictive and unique style, with each piece being made and meticulously decorated by hand.

Telling a story and trying to capture a fleeting moment in time I find very fascinating.
My forms and designs are ever changing and I have numerous sketch books waiting to come to life.

Visiting me

My studio is open on an appointment only bases so please get in touch before making the journey to see me.

Unit 7, Isle of Portland Heritage Trust, Reforne, Portland, Dorset, DT5 2AN